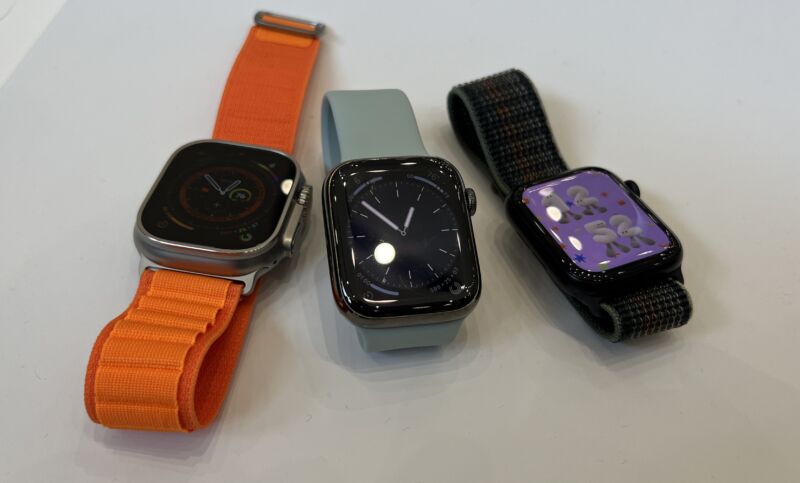 Apple is still planning to launch a new mixed-reality headset sometime in 2023, according to Bloomberg reporter Mark Gurman. The headset will run its own operating system (currently dubbed "xrOS"), and Gurman says there are still "many kinks to work out," which is typical of any new hardware and software from any company.
Aside from its ever-changing release window—previous estimates said the headset could be announced as early as this month, which has now changed to "spring 2023 announcement, fall 2023 launch"—there aren't many new details about the headset in the latest report. What's coming into focus, though, is the extent to which the headset launch will divert resources from elsewhere in the company this year.
Gurman says the main casualties will be the iPad, Apple Watch, Apple TV, and AirPod lineups—all of these lineups received significant updates in 2022, and the report indicates that most updates this year will be mostly minor "spec bump" updates. New iPad Pros supposedly won't launch until 2024. Apple's established operating systems, including iOS, iPadOS, and macOS, will all have "fewer major changes than originally planned."
The company made similar decisions in the run-up to the launch of the original iPhone in 2007, delaying a previously announced macOS release because it needed to "borrow" resources to finish the phone. Apple is a much larger company with many more resources now, but it also has more product lines to attend to, and the mixed-reality headset is launching amid a hiring freeze Apple reportedly implemented in October.
That doesn't mean we don't have any non-headset hardware to look forward to. The report says Apple will relaunch a larger HomePod with an S8 processor borrowed from the latest Apple Watches, all at a lower price than the original HomePod. The Dynamic Island feature, as well as USB-C, faster chips, and other design tweaks, will come to the entire range of iPhone 15 models.
The Mac lineup will also get several updates, as Apple wraps up the transition from Intel CPUs to Apple Silicon chips. The biggest launch would be a planned 15-inch MacBook Air, which should please people who want a larger screen but don't need or want to pay for the extra performance of the 16-inch MacBook Pro. But Apple has purportedly scrapped plans to revisit the 12-inch MacBook, and the 24-inch iMac won't be refreshed until the M3 chip is ready in "late 2023 or early 2024 at the earliest." (A larger-screened iMac or iMac Pro refresh is still MIA, after the 27-inch Intel model abruptly disappeared from Apple's store back in March.)
A Mac Pro update is also coming, though Apple's ambitions for that model have apparently been scaled back—it's no longer shipping with its unique M2 variant, opting insteadto ship with the same Ultra-series chip Apple uses in the Mac Studio. Gurman says the new Mac Pro will look like the current design, which dates back to 2019; it will include two SSD slots for storage and additional slots for GPUs and other peripherals, but it apparently won't support upgradeable RAM. This isn't a huge surprise, since Apple Silicon chips rely on integrated RAM for their speed and power efficiency, but it would be a first for the Mac Pro—even the tightly integrated "trash can" design from 2013 had RAM sticks that could be upgraded and replaced.
The report doesn't specifically mention M2-based MacBook Pros or a more powerful M2-based Mac mini, but those models were originally rumored to launch late in 2022, so we'd expect to see most, if not all, of them before too long.